Imagine how many road blocks you could avoid if you had a GPS to guide you through life.The good news is that it exists! It's a deck of 78 cards called the Tarot and the time has come for me to share its secrets with you in a new Tarot learning resource called TarotNav.
'Due for release in November 2017, TarotNav will be the user guide for this GPS for Life,' says Linda Marson. 'People of all ages and from all walks of life will find TarotNav a valuable tool for helping them visualise life goals and develop strategies to achieve them.'
TarotNav will be a comprehensive guide to reading Tarot for yourself. Available on a USB flash drive, it will contain a unique set of  resources that will be informative, easy to follow and entertaining!
Videos for each of the Major Arcana cards and other videos demonstrating a range of layouts you can use to answer questions about relationship, work and family issues. These will cover the remaining 56 cards in the Tarot deck.
An e-book with simple meanings for all 78 cards (to complement the videos), layouts and guides to navigating your way through life and a workbook/diary for you to keep track of the questions you ask, the readings you do and the action you take as a result.
If you're not familiar with Tarot, this is a fun, easy way to see what it's all about. If you're already into Tarot, this is a unique package of material well worth adding to your collection.
Click here  for more information and to pre-purchase a copy of TarotNav for $35 USD (includes airmail postage worldwide).
How does the Tarot 'work'?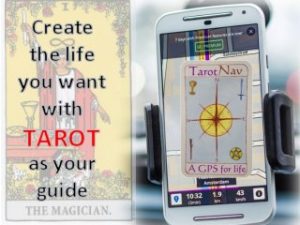 Seeking advice from the Tarot opens a channel to your Higher Self, your intuition, your Spirit Guide…however you perceive that part of yourself which dwells beyond the everyday world and knows what you're truly meant to be doing in this lifetime. Ask the Tarot questions and the images on the cards you select provide the answers.
Ask questions about anything and ask them in a way that puts you in the driver's seat. For example, what can I do to improve my relationship with someone, what factors should I consider in relation to an opportunity or offer, what is the lesson for me in this situation?
In the TarotNav  videos and e-book I use the Rider-Waite Tarot, illustrated by Pamela Colman-Smith. but TarotNav works with any deck, so use one you already have or invest in your very-first deck! The important thing is to use a deck that 'speaks' to you.